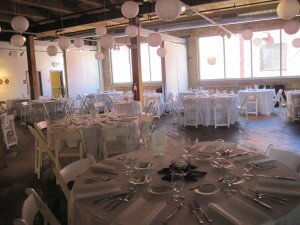 Sophisticated, edgy, and unlike anything else, RedLine Milwaukee is located on the north edge of downtown Milwaukee in a 1916 cream brick and timber building. Exposed brick and duct work along with wood plank floors and movable walls give this exhibition hall a unique and creative vibe.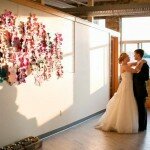 Guests customize their experience by choosing the room and activities that will best suit their event.
Options include print shop usage, exhibition space, and a variety of conference rooms/classrooms. Not only is RedLine ideal for elegant events and business meetings, but we also offer great customized team-building experiences that promote creativity and unity.
If you are looking to get out of the typical conference room or hotel venue and strive for a unique and original event, RedLine Milwaukee is the ideal venue.
Click here: Event Space @ RedLine for detailed information on rental rooms and to view our photo gallery!
Getting Married?
We've got the perfect solution you! RedLine's Exhibition Hall is a unique environment. Capacity is 125 for a sit-down dinner and 200 for a cocktail reception. Works by RedLine artists will enhance your decorating choices and make your special day all the more memorable. Exhibitions are scheduled through 2016. Rental dates fill quickly. Email or call 414-491-9088 for pricing and to schedule a tour today.
Any licensed and insured caterer may be used.
Bottoms-Up Bartending (Edy Cullen) provides our exclusive Bar Service for all event rentals. For Bottoms-Up price list: Pricing at RedLine
Bottoms-up Bartending Service is a full-service beverage catering company specializing in weddings that has been providing catered-in bars and bartending services for 20 years in the Milwaukee area. They hold the liquor license on the RedLine building and must be used for any liquor needs. For more information, email Edy@botoms-upbartending.com
Send an email to to schedule a venue tour or wedding date reservation, or call 414.491.9088.
Planning a Corporate or Private Event?
Host your next board meeting, training session, or team-building event at RedLine. Surround your associates with inspiring contemporary art, stimulate innovation with art or design activities, and direct their thinking toward solutions rather than problems with collaborative projects. RedLine artists will work with you to design the right event for your staff.
Consider RedLine for corporate or private retirement and holiday parties, engagement parties, or even a Quinceanera or bar/bat mitzvah!
Please email or call us for pricing, availability, and more information about custom-designed team-building experiences in the studio. Email or call 414-491-9088.