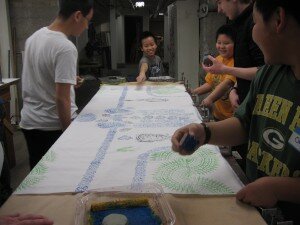 RedLine's new ARTPRENTICE program serves students from K-12 schools, who visit RedLine to tour the current gallery exhibition, talk with visiting and resident artists, and then create their own art in our print shop and papermaking studio in response to what they've seen and learned. Through our ARTPRENTICE art education program, groups of 30-35 students spend a day learning what it is like to be one of these artists-in-residence at RedLine, while acquiring literacy and critical thinking skills through the doorway of art.
Contact the RedLine Education Manager at redline.education@gmail.com to find out more about our education programs or to schedule your ARTPRENTICE tour and activity.
Using the Three Rs of Art – Read, Reflect, and Respond – ARTPRENTICE fosters students' literacy skills (reading comprehension, writing, and vocabulary) while guiding students through a developmental process similar to our RedLine Resident Artists' experience. Students identify, or "Read" the narratives (stories) expressed in the visiting artist-in-residence's work, learning to:
1) use imagery,
2) demonstrate and form meaning from text(s) (Reflect), and,
3) build community through doing and sharing art (Respond).
The learning cycle that ARTPRENTICE fosters begins with inspiration – the artworks in an exhibition, a personal encounter with a working artist in the studio, an idea (like travel and displacement), and art materials to manipulate (paper, ink, computer, wood, metal, fabric, etc.). Teachers get involved by helping students think about how these ideas connect to life in and out of school.
ARTPRENTICE actively nurtures creativity by allowing children to see first-hand how artists come up with ideas that work and learn how artists can see what's not there to create something new. While going shoulder-to-shoulder with artists in the studio, print shop, or computer lab, ARTPRENTICE participants come to understand the value of looking at problems or situations in a new way.