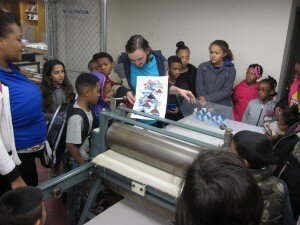 TAKE ACTION WITH REDLINE!
Community involvement is key to the success of all programs at RedLine Milwaukee. With the commitment of individuals like you, RedLine is able to achieve the mission of nourishing the individual practice of contemporary art and stimulating the creative potential of the local community to which we are linked.
We are currently seeking help with the following volunteer positions:
-Gallery Assistant-
An integral part of the RedLine experience begins at the gallery entrance, Be the face of RedLine Milwaukee! Gallery Assistant duties include:
Daily operations of gallery management

Assisting staff with special projects

Greeting guests during public hours

Answering general questions about RedLine Milwaukee
-Short-Term Projects & Special Events-
Organizers, Movers & Shakers, we want you! There comes a time when we have a large project or special event that requires teamwork. Projects range from:
Organization, gallery clean-up & studio moves
Event greeting & security
Event set-up, planning & tear-down
We invite individuals and groups for this opportunity. Reach out to hear about our upcoming needs!
-Studio Access Monitor-
RedLine Milwaukee offers the city a traditional printmaking facility fully equipped for intaglio, relief, monoprint, and silkscreen. As Printshop Monitor, volunteers will:
Provide responsible supervision of the operation of the printshop

Occasionally assist with special programs

Assist in maintaining a tidy and safe shop for community artists
*Printmaking or other relevant studio art experience is required for this position.
Click Here to introduce yourself to our volunteer coordinator to get started!
THANK YOU to every volunteer who has given their time to support RedLine. We wouldn't be here without the dedication of civic transformers like you!
*If you are interested in any of these opportunities for school credit, you may work with your school advisor to find the appropriate program, and reach out to RedLine Milwaukee's Co-Founder: Steven Vande Zande –