Break from the world of "I'm busy" to visit RedLine Milwaukee; slow down to enjoy Thirteen Tales, an exhibition featuring Master Printer Jason Ruhl.
• RedLine Milwaukee presents: Thirteen Tales by Master Printer Jason Ruhl
• Gallery Dates: October 16th – December 19th – RedLine Exhibition Gallery is open Free to the public: Thursday 10am-7pm | Friday & Saturday 10am-3pm
• Artist Website: http://www.jasonruhl.com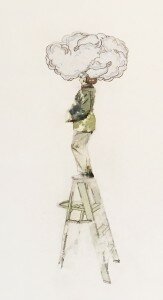 (Milwaukee, WI) Jason Ruhl artwork includes collage, letterpress boxes and video. Ruhl's artwork revolves around simplifying images to the essential components. Ruhl artwork is collaborative, gleaming inspiration from songs submitted from the RedLine community. Ruhl resides in Madison, WI where he is a Master Printer at Tandem Press. The opening reception of Thirteen Tales from 6-9 will be followed by an "After Gallery Night Party" from 9-11, featuring live music by Swamp Folk Band Honest Monday.
Thirteen Tales features the artwork of Master Printer Jason Ruhl. As a visiting artist Jason collaborated with RedLine's education programs for teens, Artists in Residence, and the RedLine community. Jason works primarily in print-based media, often cutting and collaging his prints.
Ruhl's work is based on a project started in April of 2012. Once a year Jason mails 13 individuals a letter requesting a list containing 5 songs, the letter informs the recipients that Jason will create a collage inspired by one song from their list. Each month Ruhl mails a 12" x 9" collage to one individual, and at the end of the year he sends each participant a letterpress box set containing 7" x 5" reproductions of all 13 images. Ruhl's mixed media work revolves around reducing, or simplifying, images to what he deems are the essential components. The result is a progression that obscures the "original" but leaves enough of its history to give the viewer a connection to the image.
Jason received his MFA from the University of Wisconsin-Madison and his BFA from Minnesota State University, Mankato. His work has been included group exhibitions nationally and internationally in Chicago, Los Angeles, New York, Venice, and Berlin, among others. He lives in Madison, Wisconsin where he is a Master Printer at Tandem Press.


Thirteen Tales by Jason Ruhl and supporting and educational programs, are made possible in part through the generous support of the Greater Milwaukee Foundation Mary L. Nohl Fund and by a grant from the Wisconsin Arts Board with funds from the State of Wisconsin and the National Endowment for the Arts.
RedLine Exhibition Gallery is open Free to the public: Thursday 10am-7pm | Friday & Saturday 10am-3pm
Media Kit
Image 1 |Image 2 |Image 3 | Poster