RedLine Milwaukee October 16 Gallery Night
The opening reception of Thirteen Tales from 6-9 will be followed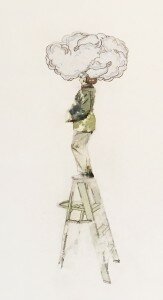 by an "Gallery Night Extended" from 9-11, featuring live music by Swamp Folk Band Honest Monday.
Jason Ruhl | Thirteen Tales
Ruhl's work including collage, letterpress boxes and video, revolves around simplifying images to the essential components. Ruhl artwork is collaborative, gleaming inspiration from songs submitted from the RedLine community. Ruhl resides in Madison, WI where he is a Master Printer at Tandem Press.
Join us on facebook!
More information and Media Kit HERE