RedLine Milwaukee presents Bobbleheads: Real & Fantastical Heroism a cultural exhibition on view from January 22nd – April 30th.
Public gallery hours are Thursday 10-7 and Friday and Saturdays from 10-3.
RedLine will be open April 15 6-9pm for Gallery Night. Bobbleheads will be open!
RedLine Milwaukee is located at 1422 North 4th Street just 4 blocks north of the BMO Harris Bradley Center. There is no admission fee however if visitors are able there is a suggested donation of $5.00 which will support the exhibition and educational costs.
RedLine Milwaukee and The National Bobblehead Hall of Fame and Museum have teamed up to bring Milwaukee the first glimpse of the future museum in an unforgettable exhibition: Bobbleheads: Real and Fantastical Heroism.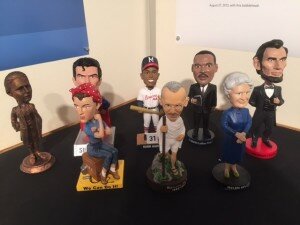 Bobbleheads: Real & Fantastical Heroism is the perfect exhibit to start the conversation about the changing world of art, exploring the increasing emphasis and value placed on the creative class and places for makers. With a focus on heroes, exhibitions examine human subjects, natural environments, and objects working in collaboration. School groups and visitors will be asked to ponder the construct of a hero. How do we define hero, and who is one? What are the differences and similarities between a real hero and a fantastical one? What role does heroism play in social activism?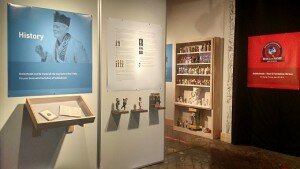 Utilizing a timeline approach, the exhibition will take a deep dive into the history and making of bobbleheads as cultural objects. Each segment will explore the historical and cultural significance of design and materials.The bobblehead story begins in the 1700's with the first known ceramic figurines, to 1842, in Nikolai Gogol's short story "The Overcoat," to modern the bobbleheads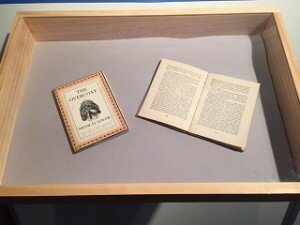 appearing in the 1950s, continuing to the 1970's with changes in technology allowing customizable characterizations, including band members, cartoon characters, political leaders, and historical figures. The exhibition will include present day artwork and a voting station for the Bobblehead Hall of Fame Mascot Design contest, banners and posters representing the breadth of Bobblehead mania.
Bobbleheads: Real & Fantastical Heroism offers an historical and education curriculum and lots of fun.
---
Presenting Sponsors:



---
Additional Sponsors:
Photos by Marc Tasman and Jake Hill


Become a Sponsor TODAY
To learn more or become a sponsor contact Jeanne Jarecki at jeanne.redlinemke@gmail.org or call 414-491-9088.
This unique sponsorship opportunity provides benefits from RedLine Milwaukee and Lifetime Founding Membership benefits from The National Bobblehead Hall of Fame and Museum. This is a once in a lifetime opportunity allowing your organization to support urban education, art, and help craft the Museum's future.
Exclusive Sponsor Benefits: Sponsorship with RedLine and The National Bobblehead Hall of Fame and Museum is a creative and tax- deductible way to strengthen a corporate image and enhance public recognition while supporting the community.
---
Media Kit
Press Release | Sponsor Levels & Request Form
RedLine Milwaukee Logo | National Bobblehead Hall of Fame and Museum Logo
Image 1 | Image 2 | Image 3 | Image 4 | Image 5